Access news, schedules and more from the official site of the Missouri State Bears.

Social Media Directory
Follow Bears on Twitter, Facebook, Instagram and other social media platforms.

Bears All-Access
Subscribe to Bears All Access for live and on-demand video and audio.

Download sports schedules
Download sports scheduleds to Outlook or your calendar.
To customize the footer information within the PowerPoint template, you will need to access the Slide Master:
Open the PowerPoint template for editing.
Select View then Slide Master.
Personalize the information as needed then click the Close Master View button.
You need Microsoft PowerPoint to access these documents.

Missouri State Mobile
Access news, map and more from your mobile device.
Facebook
Be a fan of Missouri State on Facebook and get the latest updates and news.
YouTube
Subscribe to videos highlighting Missouri State activities and projects.
Flickr
View photos highlighting Missouri State activities and BearWear pride.
Twitter
Receive the latest tweets from Missouri State.
iTunes U
Access lectures, sports highlights and more with your iPod or computer.
Blogs
Check out the current blogs that are being updated on campus.

Show your colors and wear your BearWear every Friday!
BearWear retailers
Shop online or in person at the Missouri State Bookstore. Or visit an off-campus retailer.
Share your BearWear photos
Submit your photo for a chance to be featured on the Missouri State homepage on BearWear Fridays.
Get your personalized Missouri State license plate by visiting Alumni Association and Ride with Pride!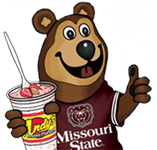 Show your spirit with a Boomer Bear Concrete
Fresh vanilla Andy's Frozen Custard blended with strawberries, almonds and Heath Bar
Available at all Andy's Frozen Custard locations.